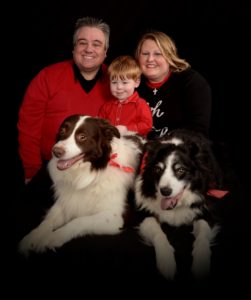 Donald Tittle, Pastor
One has only to speak with Donald for a moment to realize his fire for Christ's Gospel. He considers the Gospel to be the greatest news ever heard, and that every message he preaches should underscore one main driving theme—the hero of Scripture, Jesus Christ. He is fervent in believing that the church cannot be silent. Every breath, every action of the church should share this Good News: by God's grace, Jesus saves.
Donald believes that Christianity is built on relationships, and that the people of Christ love God, one another, and the lost. The church weeps together, prays together, celebrates together, and does life together. Further, he maintains that grace fuels the drive of the Gospel-centered church, and that a church on mission is a church on fire.
A Texan born and bred, Donald has been married to Lisa, also a Texan, for nine years. Their son, Duke, born in 2012, sports a distinct twinkle in his eye. Donald's an enthusiast of photography and graphic design. Moreover, he likes cooking reading, playing canasta, golfing, and fishing. Lisa loves the Texas Rangers and is a Baylor Bears fan. Her biblical heroes are Hannah, and the father in Mark 9. Her dream vacation would be to go to Paris, France. They join myriad Texans in enjoying TexMex food.
Donald earned a Master of Divinity with Biblical Languages from Fort Worth's Southwestern Baptist Theological Seminary, in 2003. Even now he's working towards a Doctor of Ministry in Pastoral Care & Counseling from Liberty University in Virginia.