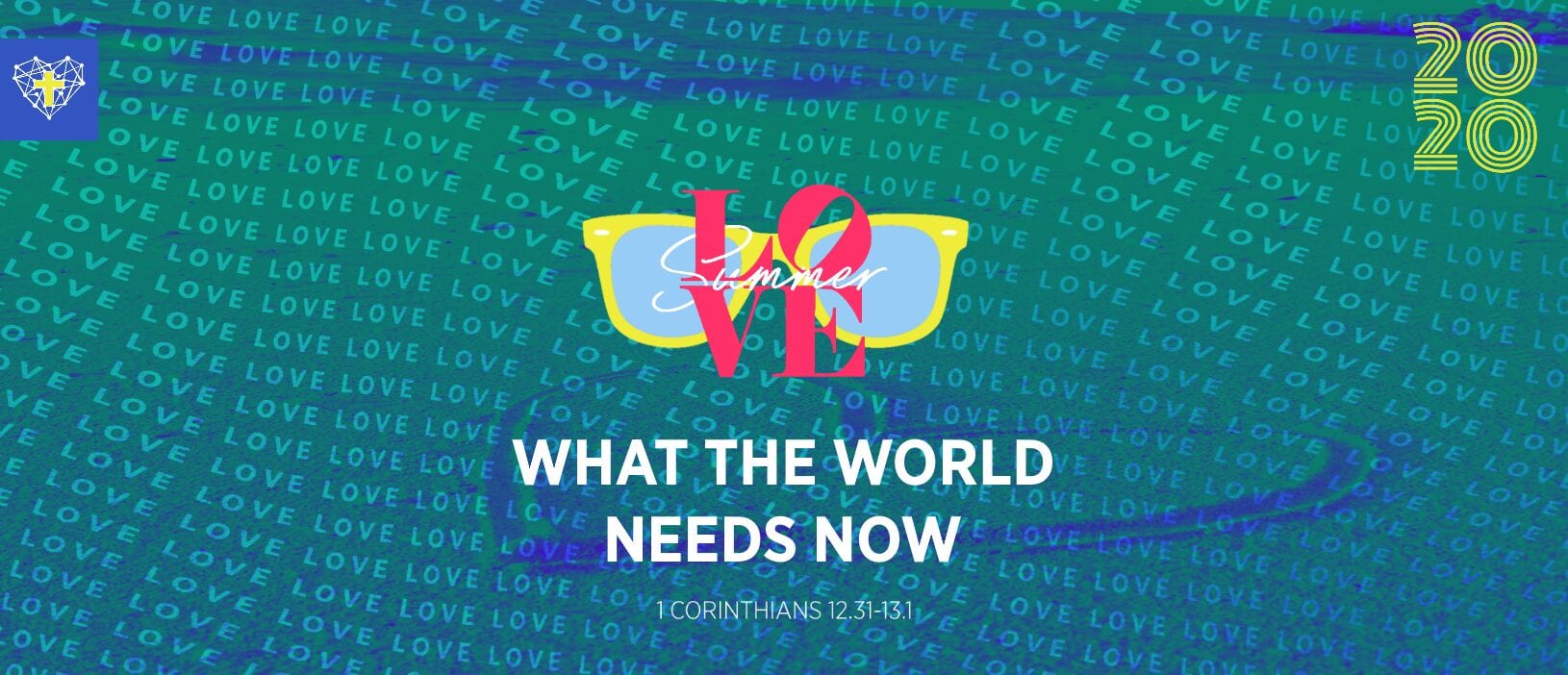 ---
WELCOME
CALL TO WORSHIP
Psalm 33:6–12 (ESV)
By the word of the Lord the heavens were made, and by the breath of his mouth all their host. He gathers the waters of the sea as a heap; he puts the deeps in storehouses. Let all the earth fear the Lord; let all the inhabitants of the world stand in awe of him! For he spoke, and it came to be; he commanded, and it stood firm. The Lord brings the counsel of the nations to nothing; he frustrates the plans of the peoples. The counsel of the Lord stands forever, the plans of his heart to all generations. Blessed is the nation whose God is the Lord, the people whom he has chosen as his heritage!
SONGS FOR WORSHIP
CENTER MY LIFE
HOW DEEP THE FATHER'S LOVE FOR US 
MESSAGE
1 CORINTHIANS 12:31-13:1
Summer Love : Week 1  |  NOTES
The greatest gift is love.
Jesus loves us well.
Love others like Jesus loves you.
COMMUNION
SONG FOR RESPONSE
Jesus, We Thank You
BENEDICTION
2 Corinthians 13:14 (ESV)
The grace of the Lord Jesus Christ and the love of God and the fellowship of the Holy Spirit be with you all.
RESPONSES
You can give.
We give as a church because giving is an essential part of our worship.
In Matthew 6,  Jesus says, "where your treasure is, there your heart will be also". So, we invite you to joyfully give to the God who has given us everything.
You can pray.
What did you hear today?
How is the Holy Spirit leading you?
Who do you need to tell?
If you received the gospel and are beginning a relationship with Jesus, please let us know! We want to help you on your new journey. Maybe you're returning to a relationship with Jesus and we can help. Share your prayer requests with us. You do not have to walk alone during this time. [My Prayer Request]
REMINDERS
THIS WEDNESDAY
WEDNESDAY AT 6.30P / / Small Group will focus on the love of Jesus. We're meeting outdoors in front of building A this week. Starting this week Kids and Students small groups will gather in socially distant locations. Find the study guide on the Soap page. Review the questions. You can submit questions through Facebook Messenger. Grab your Bible, Study Guide, and pen and join them. Paper copies are available by request and mailed on Mondays.
DEACON-LED PRAYER
TODAY AT 5.00P / / The spiritual discipline of prayer is vital to the health of our church, and we strongly believe in the value of gathering together to pray. At Deacon-Led Prayer, we seek the Lord's will and favor for our church, our community, our nation and the world.
Father's Day
JUNE 21 AT 10.30A / / To celebrate Father's Day we're gathering in our 'Living Sanctuary' outside under the trees again. Communion will also be served.
CHURCH TEES
We have new summer t-shirts for you and your family. Email us or pick one up this Sunday. There is no charge. Use your shirt to spread the good news of FMFB and Jesus!
BENEVOLENCE
If you are a member of FMFB and have you been financially affected by COVID-19, had a change in your employment or have experienced health issues due to the virus we may be able to help. While we can't help everyone, we will review all requests in the order they are received. You can also give to the benevolence fund to help another family. I need help.
SAVED PEOPLE SERVE
Are you willing to help another brother or sister during the Covid Crisis? We're looking for folks to pick up and deliver groceries, medicines, etc. I can help.
OUR VISION
WE MAGNIFY. WE MATURE.
WE MULTIPLY.